Finding the perfect domain name and registering it securely and reliably is a crucial first step when creating any new website.
Can you register a domain at kinsta?
Kinsta does not offer domain registration services.
However, you can add a domain to your Kinsta site by following the instructions provided on their website.
To register a domain, you will need to use a domain registrar.
Kinsta recommends several domain registrars in their blog post on how to select the best domain registrar.
One of the cheapest domain registrars you can consider is Truehost.com.
Truehost as your domain registrar
Truehost partners with Internet.bs Corp for domain registration, an ICANN accredited registrar with over 20 years experience registering millions of domains.
This enables Truehost to provide access to an extensive catalog of TLDs (top-level domains) beyond the common .com, .net and .org.
Popular TLDs like .biz, .info, .store, .nyc, .tech and many more are available for registration through Truehost's domain management dashboard.
You can also register country code TLDs like .ke, .us, .uk, .ca, etc.
The domain registration process is streamlined and automated on Truehost.
You can check domain availability, register new domains, manage existing domains, and more all without leaving your WordPress hosting portal.
By providing easy and affordable domain registration, Truehost simplifies the process of securing the perfect domain for your brand, business or personal website.
Let's explore the key benefits of registering your domain with Truehost.com.
Benefits of Registering a Domain with Truehost
Registering your domain name directly through Truehost.com provides several advantages versus using a third-party registrar.
Here are some of the key benefits of registering domains with Truehost.com:
Streamlined Management
The biggest benefit is having your domain registration and DNS management integrated directly into your Truehost.com hosting dashboard. This consolidates everything under one roof for a simplified administration experience.
Rather than logging into separate accounts, you can register domains, set DNS records, monitor expirations/renewals, and more all from your main Truehost.com portal. Domain and hosting management are tightly integrated.
Enhanced Security
With Truehost, your domain is automatically set up with essential security provisions like auto-renewal to prevent accidental expiration, registry lock to stop unauthorized transfers, and more.
Expert Support
Truehost's world-class 24/7 customer support extends to domains as well.
Their team of experts can assist with domain transfers, DNS configuration, troubleshooting domain issues, and anything else related to your domains.
Registrars without dedicated support often leave you stuck if domain problems arise.
Truehost's staff resolves domain issues promptly.
Domain Registration Process with Truehost
Registration of new domains with Kinsta is straightforward and automated for a smooth experience from start to finish.
Here is an overview of the domain registration process through Truehost:
Search for Available Domains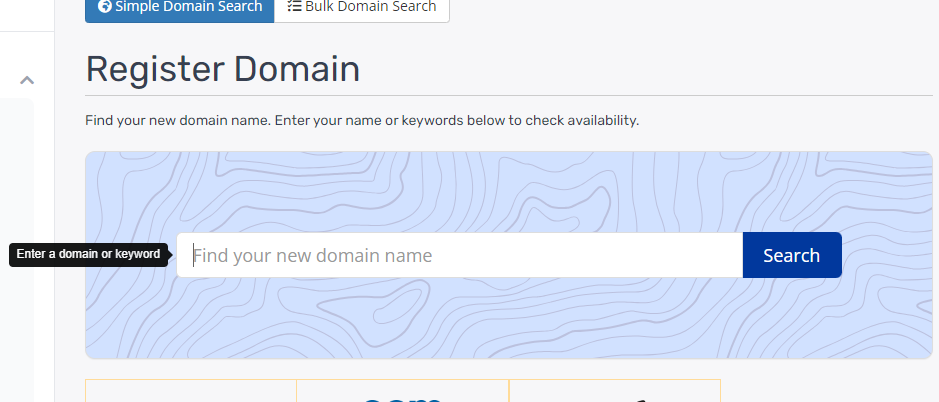 First, go to Truehost.com and navigate to Domains > Domain search.
This brings up the domain search panel.
Here you can enter your desired domain name and hit enter to check availability.
The search will check across many popular TLDs like .com, .net, .org, .info, .online, .tech and others.
If the domain is taken, suggestions for alternative available names will appear. Repeat searching until you find an available domain matching your preferences.
Select Domain and Registrant Info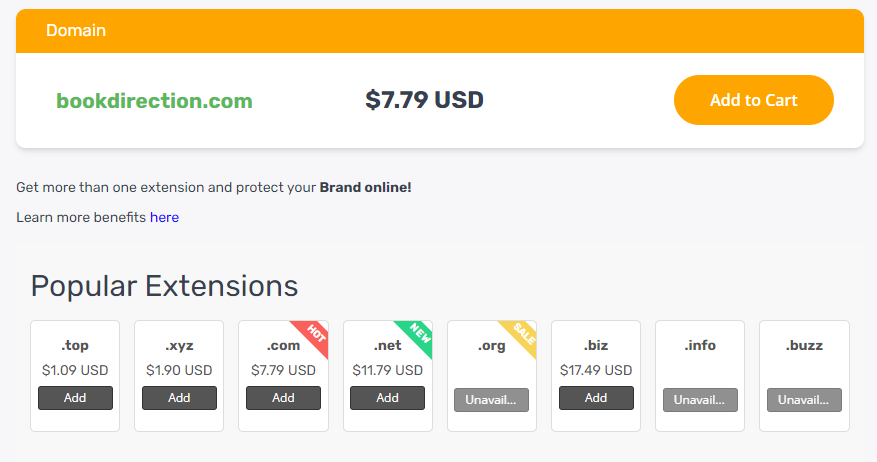 Once an available domain is found, you can select your preferred TLD from the options and proceed to registration.
Add to Cart and Checkout
With your domain selected and registrant details entered, simply add the domain registration to your cart like any other Truehost product.
Proceed through checkout and payment using your preferred method.
First-year registration is typically around $12-$15 depending on TLD.
Automatic Configuration and Activation
Once the domain purchase is complete, Truehost automatically configures all the essential settings like nameservers for DNS resolution, WHOIS privacy, and auto-renewal for uninterrupted service.
The domain becomes available for use immediately and will renew annually on your billing date.
It's registered and operational within minutes!
Ongoing Domain Management
Now you can easily manage the domain anytime by logging into your Truehost dashboard and going to the Domains section.
From here you can update DNS records, contact/payment info, transfer away, and enable/disable various security provisions like registry lock. Streamlined management!
Domain Registration Renewals
As your registration expiration approaches each year, Truehost will automatically charge your payment method on file to renew and extend the domain registration another year.
You receive emails reminding about upcoming renewals as well, so there are no surprises.
Renewals keep domains active seamlessly.
Domain Privacy and WHOIS Protection with Truehost
When you register a domain, your personal contact details like name, address, phone number and email are stored in the public WHOIS database.
Truehost offers WHOIS privacy protection to keep your info private when registering domains.
What is WHOIS and Why Privacy Matters
The WHOIS database contains contact information for every registered domain name.
It was originally designed for technical administration purposes.
However, anyone can query WHOIS and lookup data for a domain.
Having your personal info exposed publicly can lead to spam calls/emails, identity theft risks, and other privacy issues.
Fortunately, WHOIS privacy hides your details and publishes the registrar's info instead.
Managing Your Kinsta Domains
A key benefit of registering domains through Truehost is the integrated management within your WordPress hosting dashboard.
All domain settings, DNS records, transfers, renewals and more can be managed from one central dashboard.
Here are some tips for effectively managing your domains registered and hosted with Kinsta:
Update Contact Info
If your address, email or phone number changes, you can update your domain registrant info through the Domains section of your Truehost dashboard easily.
Having current info is important so you receive renewal notices and can recover access if you ever lose your account password. Keep contact details up-to-date.
Adjust Automatic Renewal
Truehost enables automatic renewal by default to protect domains from accidental expiration.
But you can disable auto-renewal anytime if desired.
Under your domain settings, toggle auto-renewal on/off.
Just be careful – with auto-renewal off, the domain will expire if not manually renewed.
Configure NS Records
The DNS records for your domain like NS records can be managed under the DNS section for the domain.
Add/edit/delete records as needed to point your domain to Kinsta hosting or other services like email.
Transfer Domains Away
Truehost allows free transfers of your domains away to a different registrar anytime.
Initiate outbound transfers under domain settings.
Some restrictions like registry locks may need to be temporarily disabled first.
Monitor Expiration Dates
Check when your domains are set to expire under the manager.
Renewals happen automatically but you can also renew early manually if desired.
Never lose track of upcoming domain expirations to avoid unwanted lapses.
Key Takeaways
Kinsta don't offer domain registration services. If you're looking for a place to register your domain, check out places Truehost.com
Benefits include streamlined management, enhanced security, free WHOIS privacy and Google Workspace integration
Finding available domains, entering registrant info, and checkout is straightforward
WHOIS privacy protects your contact details from public disclosure
Manage domains easily within Kinsta – update info, DNS, transfers, renewals etc
Transfer in existing domains to unify management, enable privacy protection and other perks
Some coordination with current registrar required to approve and process transfers