When it comes to choosing a WordPress hosting provider, two of the top options are Kinsta and InMotion.
Both offer managed WordPress hosting with optimized servers, security, and support.
In this comparison, we'll look at the key differences between Kinsta and InMotion when it comes to pricing, performance, features, ease of use, and more.
By the end, you'll have a better idea of which provider is the best fit for your needs.
Some of the key factors we'll cover include:
Pricing tiers and value
Page load speeds and caching
Security protections and backups
Staging sites and cloning
Migrations and site transfers
Customer support options
User interface and ease of use
Whether you're looking for the fastest WordPress hosting, best managed support, or most budget-friendly plans, this Kinsta vs InMotion comparison will help you decide.
Let's dive in.
Kinsta Vs InMotion Hosting
Pricing and Plans
One of the most important factors when choosing a WordPress host is the pricing and plans offered. Here's how Kinsta and InMotion compare when it comes to pricing.
Kinsta Pricing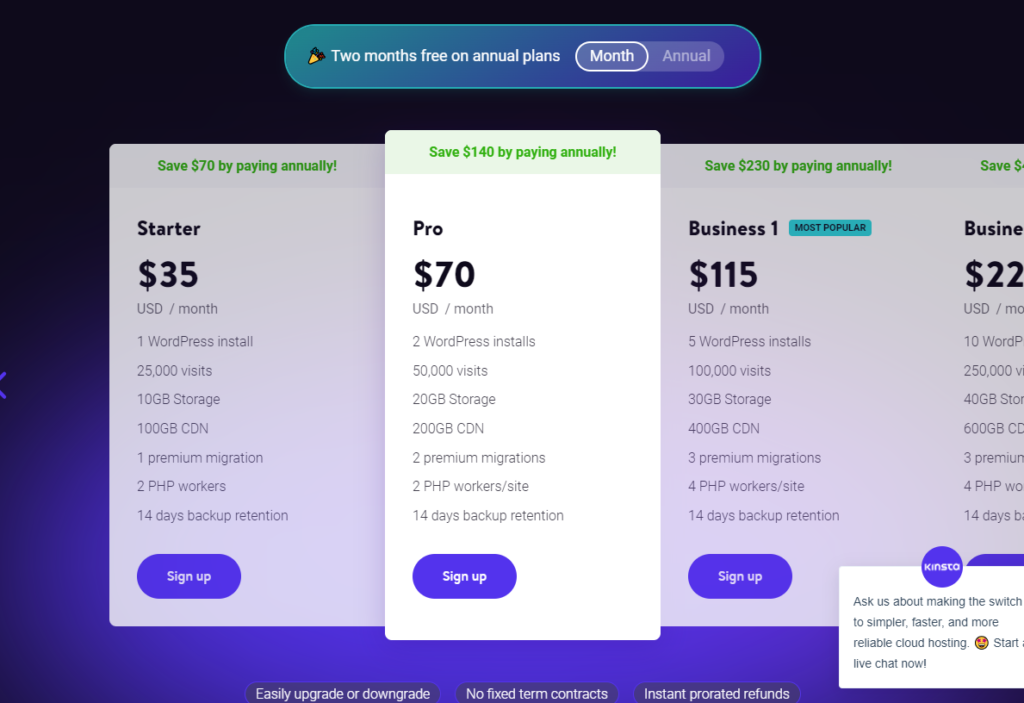 Kinsta offers four main hosting plans, plus add-ons:
Starter: $35 month – 20,000 visits, 10GB SSD storage, 2 sites
Pro: $70/month – 40,000 visits, 20GB storage, 5 sites
Business: $115/month – 100,000 visits, 30GB storage, 10 sites
Enterprise: Custom pricing
Kinsta pricing is simple and includes unlimited bandwidth on all plans. Each plan also comes with a free CDN, free SSL certificate, and one-click staging sites.
All Kinsta plans include one-click WordPress installs, automatic updates, managed hosting, and a user-friendly admin dashboard.
InMotion Hosting Pricing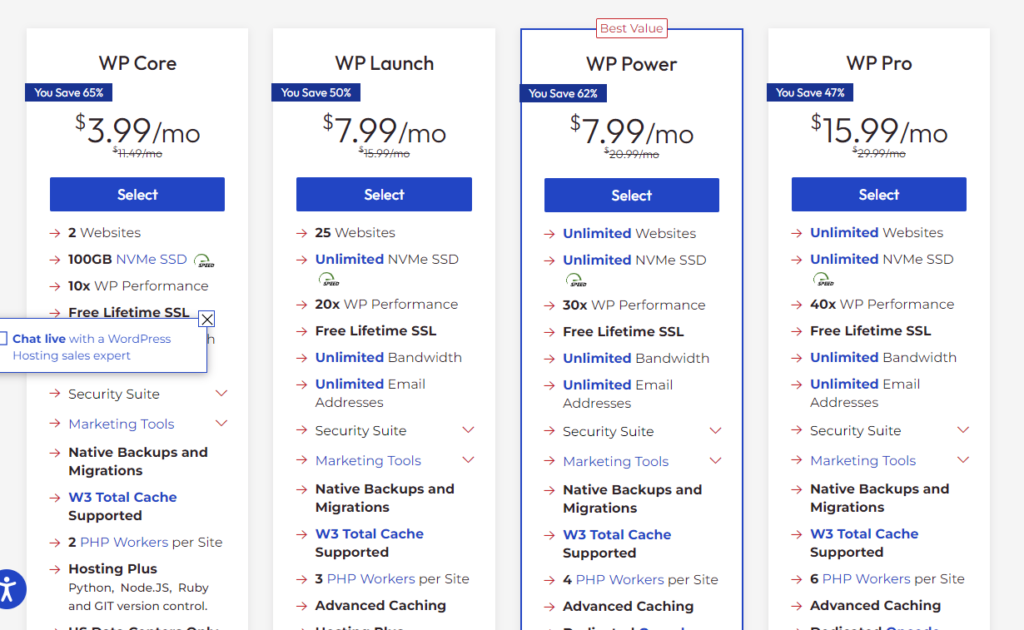 InMotion has three shared WordPress hosting plans:
WPcore: $3.99/month first term – 25,000 visits, 40GB storage
WP Launch: $7.99/month first term – 100,000 visits, 60GB storage
WP-3000S: $15.99/month first term – 200,000 visits, 80GB storage
InMotion shared hosting includes unmetered bandwidth and a free SSL certificate.
But additional fees apply for extras like backups, malware scanning, and caching.
For managed WordPress hosting, InMotion has two VPS plans:
WP-1000V: $27.99/month first term – 4 CPU cores, 60GB SSD storage
WP-2000V: $57.99/month first term – 6 CPU cores, 120GB SSD storage
The VPS plans include extras like server management, daily backups, and staging. But there are additional costs for add-ons.
Kinsta Vs InMotion Hosting: Pricing Comparison
When it comes to value for money, Kinsta generally provides more bang for your buck at each pricing tier. The bandwidth, storage, and visits scale up nicely with each plan.
InMotion's shared hosting requires add-ons to match Kinsta's features. And the managed VPS plans can end up costing more for fewer sites and resources.
Winner: Kinsta
Performance
Speed and performance are critical for WordPress hosting. Quick page load times keep visitors happy and help with SEO. Here's how Kinsta and InMotion compare when it comes to performance optimizations.
Page Load Speed
Kinsta uses Google Cloud infrastructure with SSD storage for fast page loads. All plans include a CDN powered by Google Cloud CDN. Average page load speeds are under 500ms globally.
InMotion uses a mix of its own data centers and AWS. Page load speeds average 600-700ms without additional caching.
In benchmarks, Kinsta consistently ranks faster for page loads across locations. The global CDN gives it a significant advantage.
Caching
Kinsta has built-in Nginx caching on all plans, along with Redis object caching. Varnish cache is also available as an add-on. These optimized caches keep pages fast.
The basic InMotion plans have no built-in caching. You need to add a caching plugin like LiteSpeed Cache or purchase a Cloud VPS for full-page caching.
CDN
As mentioned above, Kinsta includes a Google Cloud CDN on all plans for fast delivery of assets.
InMotion does not include a CDN. You either need a caching plugin with CDN like Cloudflare or LiteSpeed Cache, or get the Cloud VPS plan which uses a proprietary CDN.
Performance Features
Kinsta also includes HTTP/2 connectivity and free SSL certificates on all plans. Dynamic caching adapts to traffic spikes. postgres DB caching is enabled as well.
InMotion has HTTP/2 and SSL on shared plans. But advanced caching requires upgrading to VPS hosting.
Uptime and Reliability
Both Kinsta and InMotion have excellent uptime and reliability:
Kinsta – 99.9% uptime SLA guaranteed
InMotion – 99.9% uptime SLA guaranteed
The Google Cloud Platform and AWS networks offer reliable data centers and DDoS protection. Users typically report minimal downtime for both hosts.
Kinsta Vs InMotion Hosting: Performance Winner
For WordPress caching, speed optimizations, and fast global delivery, Kinsta is the winner here.
The built-in CDN, Nginx caching, and optimized architecture deliver excellent performance without add-ons.
Features
The included features, tools, and functionality also differ between Kinsta and InMotion WordPress hosting. Let's compare the core features of each.
Security
Kinsta offers a robust security toolkit including:
Web Application Firewall
DDoS protection
Automatic security updates
Malware detection and removal
SOC 2 compliant
Free SSL certificates
InMotion has standard security like firewalls and SSL. But advanced features require add-ons like Patchman for auto-updates, HackScan protection, or Sitelock scans.
Backups
Kinsta performs automatic cloud backups with 30 day retention. Backups are stored in Google Cloud Storage. You can restore entire sites or individual files.
The basic InMotion plans only offer weekly software-level backups for free. Daily cloud backups require upgrading to VPS hosting. File-level restores require add-ons.
Staging
Kinsta offers one-click staging sites for testing changes before going live. Staging sites clone your live site with a separate URL.
InMotion only provides staging on the managed VPS WordPress plans. For shared hosting, you need to install a staging plugin manually.
Migrations
Kinsta offers free migrations from any host using their automated migration tool. The process is fast and helps avoid downtime.
InMotion migrations start at $99 for one site. The free transfer service is more limited and would involve more downtime.
Cloning
In addition to staging sites, Kinsta lets you create full production clones with one click. Clones replicate your live site to a separate domain.
Cloning is not a built-in feature for InMotion. You would need to use a cloning plugin like Duplicator or All-in-One WP Migration.
Integrations and APIs
Kinsta allows integrating your WordPress site with external platforms via APIs. This enables custom solutions.
InMotion has limited APIs and hooks available. Integrating with external services generally involves plugins and custom code.
Admin UI
Kinsta offers an intuitive and user-friendly admin dashboard. Everything is managed through the front-end like staging, caching, SSL, and more.
InMotion uses the standard cPanel for admin tasks. This can be less intuitive for users not familiar with cPanel and WHM.
Support
Kinsta provides 24/7 ticket, live chat, and phone support. All users get access to WordPress engineers to help resolve issues quickly.
InMotion offers 24/7 phone and ticket support. But managed support is only guaranteed for VPS hosting, not shared hosting plans.
Developer Features
Kinsta allows you to directly access PHP, Nginx, and MySQL config files for customization. WP-CLI and SSH access are also available.
Accessing configuration files is more limited on InMotion's shared hosting. WP-CLI is available, but customization is easiest on a Cloud VPS plan.
Kinsta Vs InMotion Hosting: Feature Winner
Kinsta offers a robust set of built-in features designed specifically for WordPress sites. The staging sites, backups, cloning, migrations, and integrations enable powerful management options for developers and agencies.
InMotion can match some of the features, but generally requires upgrading to VPS hosting and/or purchasing add-ons for functionality like backups and caching.
Ease of Use
A good WordPress host needs to be easy to use for admins, editors, and site owners. Here's how Kinsta vs InMotion compare when it comes to user-friendliness and ease of management.
Admin Interface
Kinsta built a custom dashboard optimized for WordPress. Key info is available up front and config is accessed in the browser. Managing sites, caching, domains, and more is simple.
InMotion uses cPanel which provides power but involves a steeper learning curve. Those new to cPanel have more settings and options to navigate.
Migrating Sites
Kinsta's automated migration tool copies your site with minimal effort or downtime. Everything is migrated including files, database, users, and search/replace.
InMotion migrations start at $99 and involve more hands-on work getting sites copied over. There is a higher likelihood of extended downtime.
Site Transfers
Kinsta allows fast domain transfers right from your dashboard. It uses an API transfer method to avoid interruptions.
InMotion transfers domains out at no cost. But incoming transfers to InMotion require contacting support and can take up to 5-7 days.
Staging Sites
Creating staging sites takes one click in Kinsta. Just enter a name and your staging copy is ready immediately with a separate URL.
With InMotion, you need to manually install a staging plugin like WP Staging. This makes creating copies more time consuming.
Updating Software
Kinsta offers one-click updates for WordPress, plugins, and themes. Everything stays up to date automatically for improved security.
InMotion offers standard auto-updates for the WordPress core. But plugins and themes need to be updated manually or use a management plugin.
Launching Sites
Kinsta has an intuitive setup wizard with automatic WordPress installation. New sites can launch with a few clicks.
InMotion shared hosting still requires manually installing WordPress. Quick Installs are only available on Cloud VPS plans.
Scaling Sites
With Kinsta, you can scale your site resources like memory, storage, and bandwidth with a couple clicks. No migrations needed.
Scaling an InMotion shared hosting site requires requesting add-ons or migrating to a VPS plan. Less seamless scaling.
Support Options
Kinsta offers ticket, chat, and phone support 24/7. The chat and phone options help you get quick answers when needed.
InMotion phone support is 24/7 but only for VPS hosting. Shared hosting plans have limited hours for speedy phone responses.
User Experience
The Kinsta dashboard is designed for a smooth WordPress experience for all users. Configs, analytics, staging, domains, etc are accessible.
InMotion splits tools between cPanel and a WP toolkit. This fragmented experience can make it harder for non-tech users.
Kinsta Vs InMotion Hosting: Ease of Use Winner
Kinsta simplifies key WordPress management tasks like launching sites, updates, migrations, support access, and scaling. The unified dashboard and automated tools provide a superior user experience.
InMotion is still competitive but generally involves more manual work, conversions to VPS hosting, or reliance on plugins. The user experience is less cohesive.
Reviews
Independent reviews and customer feedback provide useful insight into the pros and cons of each host. Here are reviews of Kinsta versus InMotion from around the web.
Kinsta Reviews
Trustpilot
Kinsta has an Excellent 4.7/5 rating on Trustpilot based on over 5,300 reviews. 73% of the ratings are 5-stars. Positive reviews praise the fast performance, knowledgeable support, and easy interface.
Read also: Kinsta Domain Registration: All You Need To Know
WordPress.org
Kinsta averages an impressive 5/5 stars across hundreds of WordPress.org user reviews. Users highlight the fast speeds, stability, and responsive support team.
G2
On G2, Kinsta has a 4.6/5 rating based on 93 user reviews. 97% rate their customer service positively. Users mention frequent performance improvements as a standout.
Capterra
The 284 Capterra reviews give Kinsta a 4.6 out of 5. Users mention Kinsta's optimized platform and ability to handle enterprise traffic.
Web Hosting Secret Revealed
This in-depth Kinsta review highlights the robust feature set, optimized hosting environment, and helpful support. The author was impressed by the performance gains.
InMotion Reviews
Trustpilot
InMotion has a Good 3.8/5 rating on Trustpilot across almost 6,000 reviews. 53% give a 5-star rating, while 32% are 1-star. Issues raised include poor reliability and tech support.
WordPress.org
The WordPress.org reviews give InMotion 3.5 out of 5 stars. There are frequent mentions of poor uptime and performance limitations on the shared hosting plans.
G2
On G2, InMotion has a 4/5 rating from 49 reviews. Many positives cited, though some issues noted with unexpected renewal costs.
Capterra
The Capterra rating is a lower 3.7/5 across 147 reviews. Customers often complain about upsells, renewal costs, and server downtime issues.
Cloudwards
This Cloudwards InMotion review points out limitations like no CDN or backups on basic plans. The author suggests the low pricing may come with some hidden long-term costs.
Kinsta Vs InMotion Hosting: Reviews Summary
Kinsta emerges as the winner when looking at independent WordPress hosting reviews. Their optimized platform, knowledgeable support, and competitive pricing lead to very positive customer feedback.
InMotion reviews are more mixed, with several downsides highlighted like limited performance, surprise renewals, and poor reliability on entry-level plans. Their support quality has room for improvement.
For consistently fast and optimized WordPress hosting, Kinsta delivers excellent results according to multiple sources.
Key Takeaways
Based on this in-depth Kinsta versus InMotion comparison, a few key takeaways emerge:
Kinsta offers more competitive pricing tiers with higher resource limits per plan. Their Google Cloud hosting includes a free CDN and built-in caching for better performance.
Page load speeds are faster with Kinsta due to the global CDN, optimized architecture, and multiple caching layers. This results in a much faster site for visitors.
Managed features like staging, cloning, backups, and migrations are built into all Kinsta plans for a simpler workflow. InMotion requires add-ons or VPS upgrades.
The Kinsta dashboard and management process is purpose-built for WordPress. Migrating, launching, updating, and scaling sites is easier versus InMotion.
Support options like 24/7 chat and phone help customers resolve issues faster with Kinsta. InMotion phone support is more limited.
Independent reviews highlight Kinsta's excellent performance, support, and ease of use compared to mixed InMotion feedback.
For most users, Kinsta is the superior option if you need a combination of speed, WordPress-optimized features, and helpful support. InMotion can work for smaller sites on a tight budget.
Final Thoughts on Kinsta vs InMotion
When choosing between Kinsta and InMotion for your WordPress hosting, the main factors to consider are WordPress-optimized features, speed and uptime, pricing and plan limits, ease of management, responsive support, and user reviews.
Based on these criteria, Kinsta emerges as the best solution for most WordPress site owners.
Their Google Cloud hosting delivers excellent performance along with built-in caching, a CDN, and HTTP/2.
Kinsta's custom-built platform also simplifies key WordPress tasks like launching, migrating, updating, and cloning sites. The dashboard allows you to manage WordPress with ease versus InMotion's cPanel approach.
Support stands out with Kinsta as well. All users get 24/7 access to WordPress engineers for quick troubleshooting. InMotion's support for basic shared hosting is more limited.
InMotion can still be a good budget pick for smaller sites with more basic needs. But their entry-level plans lack key optimizations for speed,
caching, backups, and support unless you upgrade or purchase add-ons. This can increase long-term costs.
For most users seeking a robust managed WordPress host, Kinsta is worth the extra investment. Their optimized platform, knowledgeable support, and competitive pricing deliver an outstanding hosting experience.
If your priority is minimizing short-term costs for a smaller site, InMotion has some competitive entry-level options. Evaluate whether the limitations are right for your site needs and budget.
But for maximum WordPress performance and ease of management, Kinsta is the superior choice overall. Their optimized Google Cloud infrastructure and WordPress-tailored platform make them a top option for sites with more ambitious goals.
Read also: