WordPress, Litespeed, Cpanel, Emails, SSD Hosting
Why Choose Truehost Cloud?
Web Hosting Features
Truehost Cloud provides an Excellent Customer Experience led by highly competent Customer Success Personnel.
Supported Channels include Livechat, Whatsapp, Tickets, Emails, Phone calls, Social Media and Knowledgebase.
All the channels are manned by humans, however, a highly trained customer support bot Zola helps with frequently requested services including password reset, ssl certificate installation, account transfer, ticket opening, ticket status, nameserver change, invoice request, and payment verification among others.
Truehost provides lightening fast cloud for website, email and application hosting. Truehost Cloud is powered by AMD's and Intel Xeon latest super processors, NVMe SSD drives, Unlimited bandwidth, HTTP/3 and Litespeed Webservers.
This cloud infrastructure provide unmatched performance for WordPress Websites, Applications, Virtual Machines, and any cloud app without compromising security.
Truehost Cloud was found on the principle to inclusivity. The cloud is engineered to accommodate both techies and non-techies. Alongside easy to use API for techies, Truehost Cloud provides simple but feature-rich user interphase for all users.
No experience or training is required to get started and use Truehost Cloud either for simple and complex use cases or personal and enterprise's application.
Besides that, Truehost provide text and video user guides in addition to the Live Support.
Truehost Cloud provide free IN transfer of workloads to our cloud. Free transfers cover websites, applications, servers, reseller accounts among others.
Transfers are performed server to server using secure transfer tools to ensure high data integrity and security.
Most migration timelines are with 24 hours. Some bulk migration may attract a fee and in some rare cases Truehost Cloud may lack competences to perform the transfer; in those cases the in transfer is performed by the client.
Please read more on Truehost Cloud File Migration Policy
Security is of utmost important at Truehost Cloud. Truehost has invested in up to date security technology and capacity to ensure Total security.
Truehost Cloud Web hosting deploys Hardened Cloud Linux, LVE containerized environment, inhouse WAF, AntiDDOS and anti-phishing (Loudgun) technology automated backup and updates.
Additionally, every accounts comes with a free SSL Security from Lets Encrypt for additional security.
Truehost Cloud provides optimized WordPress Hosting. A combination of a fast cloud, litespeed webservers and custom cache plugins such as W3 Total among others ensure a 90%+ score on Gtmetrix.com.
Truehost Customer Success Personnel are also well versed with latest on WordPress.
Email communication remains the primary business communication channel. Truehost Cloud has strived to ensure reliable and affordable email communication as part of its offering for every hosting account.
In addition to emails on a shared platform, Truehost Cloud also provides private email servers and platforms.
Read more on Truehost Cloud Email Offerings.
Web Hosting FAQs
Find answers to frequently asked questions about web hosting services in the United States.
Web hosting is a service that allows organizations and individuals to post a website or web page onto the Internet.
A web host, or web hosting service provider, is a business that provides the technologies and services needed for the website or webpage to be viewed on the Internet. Websites are hosted or stored, on special computers called servers.
When Internet users want to view your website, all they need to do is type your website address or domain into their browser. Their computer will then connect to your server and your webpages will be delivered to them through the browser.

You need a web hosting service to publish a website or webpage on the Internet. A web host provides you with the technologies and services needed in order for your website or webpage to be viewed by others on the Internet. Your website is stored or hosted on a special computer called a server.
What are the different types of web hosting?
There are four main types of web hosting- shared, virtual private server (VPS), dedicated, and cloud. Shared hosting is the most common and affordable type of web hosting. It involves multiple websites sharing a single server. Virtual private servers are more expensive than shared hosting but provide more privacy and resources. Dedicated servers are the most expensive option, but offer the greatest flexibility and control. Cloud hosting is a newer option that uses a network of servers to provide on-demand scalability.
Which type of web hosting is best for my website?
There are four main types of web hosting- shared, virtual private server (VPS), cloud, and dedicated. Each type has its own advantages and disadvantages, so it's important to choose the right one for your website.
Shared web hosting is the most popular and affordable option. Your website will be hosted on a server with other websites, and you'll share resources like bandwidth and storage space. The main disadvantage of shared hosting is that your website can be affected by problems with other websites on the same server.
Virtual private servers (VPS) offer more resources and privacy than shared hosting, but they're still relatively affordable. A VPS runs its own copy of an operating system, so you'll have more control over your environment than with shared hosting. However, you'll still be sharing a physical server with other customers.
Cloud hosting is a newer option that's becoming more popular. With cloud hosting, your website is hosted on a network of servers, so you can scale up or down as needed. The main advantage of cloud hosting is its flexibility and scalability.
Dedicated hosting is the most expensive option, but it offers the most resources and privacy. With dedicated hosting, your website will be hosted on its own physical server. You'll have complete control over your server environment, but you'll also be responsible for maintaining the server yourself.
What is the difference between web hosting and a domain name?
Web hosting and domain names are two different things. A domain name is an address people use to find your website. It's what you type into a web browser to go to a specific website. For example, Google's domain name is google.com.
Web hosting is the service that actually stores all of the files for your website. When someone types in your domain name, their computer is connecting to your web host and then displaying your website.
You need both a domain name and web hosting to have a website. You can buy them from the same company or from different companies. If you want to save money, you can usually get a discount if you buy them together.
Do I need to be an expert to use web hosting?
No, you don't need to be an expert to use web hosting. In fact, most web hosting providers in the US offer easy-to-use tools that make it simple to get started. However, there are a few things you should keep in mind when choosing a web host.
First, you'll need to decide what type of hosting you need. There are three main types of hosting: shared, dedicated, and VPS. Shared hosting is the most affordable option, but it does have some limitations. Dedicated hosting is more expensive but provides more resources and flexibility. VPS hosting is a good middle ground between shared and dedicated hosting.
Once you've decided on a type of hosting, you'll need to choose a provider. There are many web hosts out there, so take your time to research your options.
What is cPanel and how will it help me?
cPanel is a web hosting platform that enables users to easily manage their websites. cPanel provides a user-friendly interface that makes it simple to create and manage email accounts, FTP accounts, and databases. Additionally, cPanel offers a wide range of features that allow users to customize their websites to their specific needs.
cPanel will help you save time by simplifying the management of your website. With cPanel, you can easily add or remove features as needed without having to rely on a web developer. Additionally, cPanel's wide range of features allows you to tailor your website to your exact specifications, making it easy to create a unique and professional website.
What is the process to get started with web hosting?
Web hosting in can be a confusing process, but it doesn't have to be. Here's a quick rundown of what you need to do to get started:
Figure out what kind of web hosting you need. Do you need shared hosting, VPS hosting, dedicated server hosting, or something else?
Research different web hosts and compare features and prices.
Once you've found a web host that you like, sign up for an account and choose your desired plan.
Enter your domain name into the control panel and select your preferred DNS settings.
Upload your website's files to the server via FTP or SFTP.
Make sure your website is accessible by going to your domain name in a web browser.
That's it!
What are some of the benefits of using web hosting?
One benefit of using web hosting is that you can be sure that your website will be up and running most of the time. The major web hosting providers have redundancies in place to make sure that their servers stay up even if one or two goes down.
Additionally, they have support teams available 24/7 to help you if you run into any problems.
Another benefit of using web hosting is that you can take advantage of lower prices.
Can I host my own website?
Yes, you can host your own website. However, it is important to note that there are certain risks involved with doing so. For example, if your website goes down, you will be responsible for getting it back up and running. Additionally, you will need to make sure that your website is secure and backed up regularly. While it is possible to do all of this yourself, it is often more convenient and less risky to use a web hosting service.
What is needed to run a website?
To run a website, you need a domain name and web hosting. A domain name is the address people will type into their browser to find your website. Web hosting is the physical space that stores your website's files on a server. You also need to design and build your website. Once your website is built, you can upload it to your web host.
Can I host a website without domain name?
You can absolutely host a website without a domain name. In fact, many people do it all the time. The process is simple: you just need to find a web hosting provider and create an account. Once you've done that, you can upload your website files and start sharing them with the world.
Of course, there are some downsides to hosting a website without a domain name. For one, it's much harder to promote and drive traffic to a site that doesn't have its own URL.
Additionally, most web hosting providers will require you to upgrade to a paid account if you want to use your own domain name. So if you're serious about building a website, it's worth the investment to buy a domain name and get started on the right foot.
What is the difference between web hosting and web server?
Web hosting is a service that provides internet users with online systems for storing information, images, video, or any content accessible via the web.
A web server is a computer system that stores and delivers web pages. It is connected to the internet and runs web-based software such as a web page loading program. Web servers are used to host websites but can also be used to store data for other purposes.
The two terms are often used interchangeably, but there is a difference between web hosting and web servers. Web hosting is a service that provides the technology and services needed for a website to be viewed on the internet. This can include everything from designing and building the website to providing the server space to store the site's files, to giving the site a unique domain name.
A web server is simply a computer that stores and serves files.
What can I use to build my website?
There are many ways to build your website. But before you decide on anything, you should ask yourself what do you want your website to do? What is the purpose of your website?
There are a few things that you need to consider before building a site. Some of these include:
How much time and effort does it take for me to build my site?
Do I have the technical knowledge and expertise needed for this task?
What type of content should my site focus on?
Who will be visiting my site frequently and what will they be looking for from it?
You can use a website builder, use WordPress, or even hire a developer to build your website from scratch.
If I already have a website, can I transfer it to your web hosting?
Yes, you can transfer your website to our hosting service. You will be able to continue using your website, but with better performance and more reliability.
If you are not sure whether we can host your website, please contact us for a free consultation.
Related articles: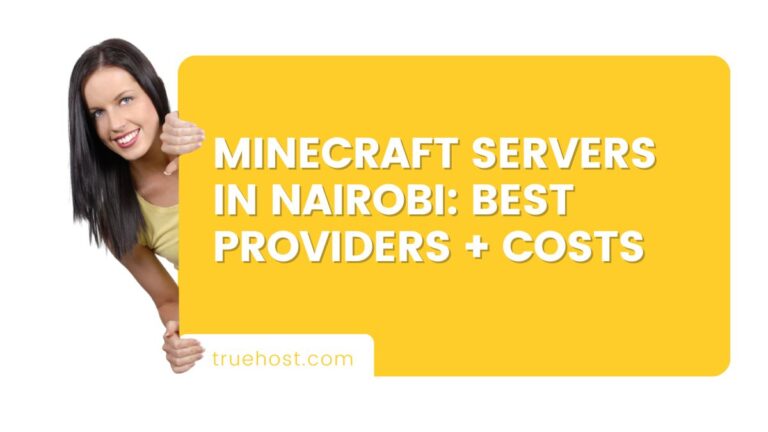 Minecraft is a popular sandbox game that allows players to build and explore virtual worlds. In Nairobi, Minecraft has a growing community of players and several servers to cater to their gaming needs. Whether you are a beginner or an experienced player, various servers in Nairobi offer different gameplay experiences. It could be survival, creative, …
Continue reading "Minecraft Servers in Nairobi: Best Providers + Costs"