Secure, Optimized WordPress Hosting + Emails
1 Website
30 GB SSD Storage
~15000 Visits Monthly
3 Email Account
Free SSL
Unlimited Bandwidth
LiteSpeed WordPress Acceleration
3 Databases
GIT Access
Weekly Backups ($7.99 value)
24/7/365 Support
99.9% Uptime Guarantee
Domain & DNS Management
3 Subdomains
3 FTP Account
3 Cronjobs
Import WordPress from Remote
Create Staging
Push Staging To Live
Create Instance Image
30 Days Money Back Guarantee
---
100 Websites
100 GB SSD Storage
~30000 Visits Monthly
Unlimited Email Account
Free SSL
Unlimited Bandwidth
LiteSpeed WordPress Acceleration
Unlimited Databases
GIT Access
Weekly Backups ($7.99 value)
24/7/365 Support
99.9% Uptime Guarantee
Domain & DNS Management
Unlimited Subdomains
Unlimited FTP Account
Unlimited Cronjobs
Import WordPress from Remote
Create Staging
Push Staging To Live
Create Instance Image
SSH Access
Free Domain Name ($8.99 value)
30 Days Money Back Guarantee
---
Unlimited Websites
200 GB SSD Storage
~100000 Visits Monthly
Unlimited Email Account
Free SSL
Unlimited Bandwidth
LiteSpeed WordPress Acceleration
Unlimited Databases
GIT Access
Weekly Backups ($7.99 value)
24/7/365 Support
99.9% Uptime Guarantee
Domain & DNS Management
Unlimited Subdomains
Unlimited FTP Account
Unlimited Cronjobs
Import WordPress from Remote
Create Staging
Push Staging To Live
Create Instance Image
SSH Access
Free Domain Name ($8.99 value)
30 Days Money Back Guarantee
---
Why Choose Truehost Cloud?
WordPress Hosting FAQs
What is WordPress hosting?
WordPress is an open-source content management system (CMS) that uses PHP and MySQL. It is the most popular platform for building websites and blogs.
WordPress hosting refers to the process of providing web hosting services for a WordPress website. There are many different types of WordPress hosting, including shared, cloud, managed, and virtual private servers.
Essentially, WordPress is a content management system that allows you to publish your own website without any technical knowledge. WordPress offers an all-inclusive platform for users with no coding skills, which means that anyone can build a website using WordPress.
WordPress is a free and open-source content management system (CMS) that provides a website with an easy-to-use interface for managing content. It is the most popular CMS in the world, powering over 27% of all websites.
WordPress is easy to use and learn, but it does not come with any preinstalled features or templates. It is also very customizable, which makes it easier for users to create their own unique website designs.
Additionally, WordPress has a wide range of plugins that can be used to create everything from an e-commerce website to an online blog. There are over 20,000 WordPress plugins that you can use for your site and many more are being developed every day.
Better part?
It also provides an easy way for people to create custom websites without having to know how to code or use design software. This makes it a popular choice for small businesses, bloggers, photographers, and freelancers looking for a simple way to create their own website.
A WordPress blog offers users an easy way to share their thoughts on any topic or event with the world and can be used for personal blogs or company blogs.
What is Managed WordPress Hosting?
Managed WordPress hosting is a type of hosting that provides all the services needed for a WordPress website to be hosted, managed, and updated by the provider.
It is a type of hosting service where the customer does not have to worry about managing their website.
The best managed WP hosts offer 24/7 support from certified experts who can help you with everything from installing plugins and themes to optimizing your site for search engines.
What is the difference between Web Hosting and WordPress hosting?
The primary difference between WordPress hosting and web hosting is that the latter is built for the sole purpose of powering WordPress sites. In contrast, servers used are tuned such that they can run any number of WordPress websites, at maximum speed and performance. Adhering to a web hosting plan that offers the same level of services and server management will require the use of many tools, including plugins, machine-level adjustments, and memory tweaks.
In a nutshell, web hosting is a service that provides technical support for building and hosting a website. It usually has a server that hosts the website files, which are accessed through an internet connection.
WordPress hosting is the type of hosting where people can use WordPress and install it on their own server.
How do I create a WordPress website?
Although the initial work of making a website with WordPress can be time-consuming, there are many parts of the process that anyone can do. The best part about doing this is that it will allow you to be able to create your own website without having to pay an upfront fee.
Follow these steps and get started today!
Use Truehost's domain checker to choose a domain name for your website.
Register your domains with us and choose your preferred managed WordPress hosting plan
Using the 1-click installer on your cPanel account, you can install WordPress for your website.
In order to install a WordPress theme on your account, you will first need to log in.
Find out what must-have plugins you might find useful and install them on your WordPress website.
Create and publish content on your website, which would now be live!
How to Choose a Good WordPress Host
If you are a beginner who wants to start with WordPress, the best option is to go for managed WordPress hosting. This will help you avoid any technical issues and allow you to focus on your content instead of worrying about server configuration.
The cost of managed WordPress hosting is also much lower than unmanaged services. It can be as low as $1 per month or even less depending on the plans that are offered.
What is the Difference Between Shared Hosting & WordPress hosting?
Shared hosting is a type of web hosting service that allows a website to be hosted on a computer owned by someone else. WordPress hosting, on the other hand, is a type of web hosting service that allows users to create and manage their own websites.
Shared hosting is cheaper than WordPress hosting but it has fewer features than WordPress. On the other hand, you have more control over your website when you use WordPress as your host.
For people who want to start or maintain their own website with little to no experience, shared hosting is ideal. For those who want more control over their website, however, WordPress might be better for them.
Should I use WordPress.org or WordPress.com?
WordPress.com is a free website hosting service and WordPress.org is a self-hosted platform that can be used to create websites.
WordPress.com offers features that are not available on WordPress.org, such as advertising and analytics tools, which can be used to make money for the website owner.
WordPress is an open-source platform that enables anyone to create content for websites and blogs with ease, whether they want to use it for their own personal blog or build an online business from their website's content. It also has a large community of users who share tips and tricks on how to improve your site's performance and design in addition to creating custom plugins for your site's functionality needs.
Related articles: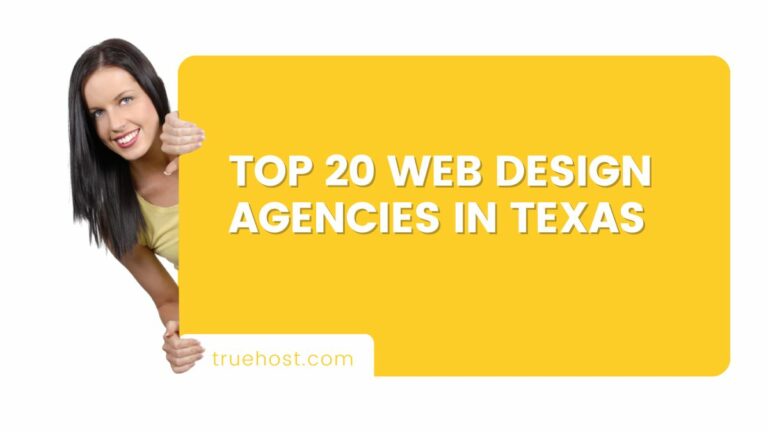 Are you tired of scrolling through generic websites that all look the same? Well, get ready for a breath of fresh air because we've rounded up the crème de la crème of web design agencies in Texas. These trailblazers are breaking boundaries and redefining what it means to have an online presence. Whether you're looking …