30 Days Money-Back Guarantee
Minecraft Server Prices
Get the deal you deserve

Minecraft Server You Deserve
Minecraft is a popular sandbox video game that allows players to explore, build, and interact within a virtual world made up of blocks. It was created by Swedish developer Markus Persson and released in 2011. The game offers endless possibilities and freedom for creativity, as players can gather resources, craft tools and materials, and construct their own structures or landscapes.
In Minecraft, players can choose to play in different modes such as survival mode or creative mode. In survival mode, players must gather resources to survive while facing challenges like hunger and hostile mobs. Creative mode, on the other hand, provides unlimited resources and allows players to focus solely on building and designing without any restrictions.
The game has gained immense popularity over the years due to its open-ended nature, allowing players to create their own adventures and worlds. It has also fostered a strong community of players who share their creations and mods with others online. Minecraft has become more than just a game; it has become a platform for imagination and collaboration among millions of players worldwide.
Play All Day
With a 99.95% uptime guarantee, your VPS for Minecraft will be up and running 24/7, causing no interruptions in your game.

DDoS Protection
Our network infrastructure guarantees the continuous operation of your server by fortifying it against both minor and major DDoS attacks, ensuring utmost security and uninterrupted uptime around the clock.
Instant Setup
Start building today with our servers that are instantly provisioned upon purchase and ready to play in a matter of seconds.
Powerful Panel
Manage your game server effortlessly using our personalized web-based Multicraft 2.0 panel from either your mobile device or computer.
24/7 Servers & Support
Experience unparalleled customer service with our top-notch team, providing 24/7 live chat support from expert server administrators who are dedicated to keeping your always online server running smoothly.
Ultra Low Latency
Data centers across the globe offer convenient proximity to every customer and optimal ping for your players.
FAQ | Minecraft Server
What is a Minecraft Server?
A Minecraft server is a computer program or a set of computer programs that allows players to connect and play together in the popular sandbox game, Minecraft. It acts as a virtual world where multiple players can interact, build structures, explore, and engage in various activities within the game's parameters.
To join a Minecraft server, players need to have the game installed on their devices and an internet connection. They can then connect to the server using its IP address or domain name. Once connected, players can choose from different game modes, such as survival or creative, and collaborate with other players in real-time.
Minecraft servers can be either public or private. Public servers are accessible to anyone and often have specific themes or gameplay modifications that cater to different interests. Private servers, on the other hand, are typically restricted to a select group of players who have been granted access by the server owner. These private servers offer more control over who can join and allow for a more personalized gaming experience.
How much RAM do I need to host my own Minecraft server?
The amount of RAM you need to host your own Minecraft server depends on several factors, including the number of players you expect to have and the complexity of your server setup. As a general guideline, it is recommended to have at least 1GB of RAM for a small server with up to 10 players. However, if you plan on having more players or running mods or plugins that add additional features, it is advisable to have more RAM.
For larger servers with 20 or more players, it is recommended to have at least 4GB of RAM. This will ensure smooth gameplay and prevent lagging issues. Additionally, if you plan on running multiple servers simultaneously or hosting other applications alongside your Minecraft server, you may need even more RAM.
It's important to note that having enough RAM is just one aspect of hosting a successful Minecraft server. Other factors such as a stable internet connection and a powerful processor are also crucial for optimal performance.
What do I need to host a Minecraft server?
To host a Minecraft server, you will need a few things. First, you will need a computer that meets the minimum system requirements for running Minecraft. These requirements include having at least 4GB of RAM and a decent processor. Additionally, you will need a stable internet connection with sufficient upload and download speeds.
Next, you will need to download the Minecraft server software from the official website or another trusted source. Once downloaded, you can set up the server by following the instructions provided.
Finally, if you want others to be able to join your server, you will need to forward the necessary ports on your router to allow incoming connections. This process may vary depending on your specific router model, so it's best to consult your router's manual or search online for instructions tailored to your device.
What is a Minecraft realm vs server?
A Minecraft realm is a multiplayer service provided by Mojang, the company behind Minecraft. It allows players to create and join private worlds that are hosted on Mojang's servers. Realms are easy to set up and manage, making them a convenient option for players who want a hassle-free multiplayer experience. They also offer cross-platform support, meaning players on different devices can play together.
On the other hand, a Minecraft server refers to a player-hosted multiplayer world. Unlike realms, servers require players to have their own hardware or rent server space from a hosting provider. This gives players more control over the gameplay experience, as they can customize the server settings and install mods or plugins. Servers are often used for larger communities or specific game modes like survival or creative.
So, while both realms and servers provide multiplayer experiences in Minecraft, realms are hosted by Mojang and offer simplicity and convenience, whereas servers require more technical knowledge but provide greater customization options.
Should I get a dedicated IP for my Minecraft server?
Getting a dedicated IP for your Minecraft server can have its advantages. One of the main benefits is that it allows you to have a fixed and unique IP address for your server. This means that players can easily connect to your server without having to remember or update the IP address every time they want to play. It also provides better stability and reliability as you won't be sharing the IP with other servers, reducing the chances of experiencing lag or connection issues.
However, it's important to consider whether getting a dedicated IP is necessary for your specific needs. If you're running a small private server with only a few friends, a dedicated IP may not be worth the extra cost. On the other hand, if you're planning on hosting a large public server with many players, having a dedicated IP can help ensure smooth gameplay and make it easier for users to find and connect to your server.
Ultimately, the decision to get a dedicated IP for your Minecraft server depends on your specific circumstances and requirements. Consider factors such as the size of your player base, budget, and desired level of convenience before making a decision.
Related Posts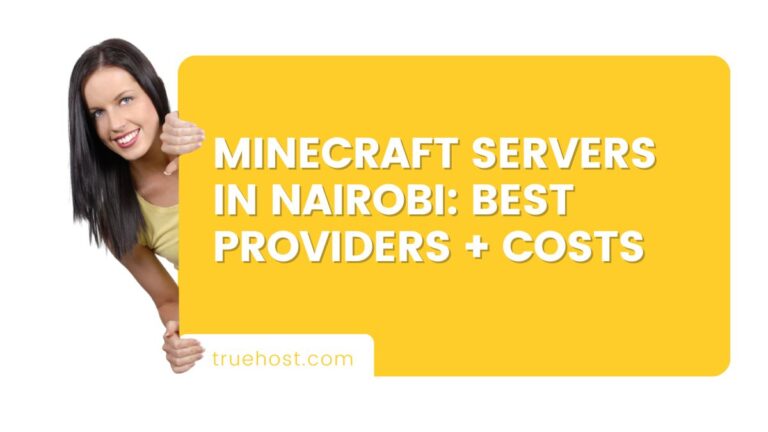 Minecraft is a popular sandbox game that allows players to build and explore virtual worlds. In Nairobi, Minecraft has a growing community of players and several servers to cater to their gaming needs. Whether you are a beginner or an experienced player, various servers in Nairobi offer different gameplay experiences. It could be survival, creative, …
Continue reading "Minecraft Servers in Nairobi: Best Providers + Costs"