In today's blog post, we are looking at Blogger Vs WordPress. If you are looking for the best blogging platform, this is the perfect place to start.
For many people, blogging has developed into a lucrative career. Individuals can easily find your content online because there are billions of people globally that are connected to the internet. However, for you to stand out in this competitive and crowded market you need to choose the right platform.
Choosing one blogging platform from the many options available might be challenging. But to reap the benefits of blogging, you must first determine which blogging platform is best for creating your blog.
The two most popular blogging platforms on the web are Blogger and WordPress. These platforms make it simple to start a blog, so even a beginner with little experience may quickly publish their ideas and opinions online. However, each of the platforms has both a plus and a minus.
We'll compare Blogger vs WordPress in this article so you can choose the best blogging platform.
What to look for in a blogging platform
Before we compare Blogger and WordPress, let's look at some considerations you should consider.
a). Ease of use
With so many platforms, creating a blog site shouldn't be difficult. Most of the platforms offer basic features and tools that are easy to manage. However, not all platforms are easy, some have a high learning curve. You need to choose a platform that is simple and easy to use.
b). Monetization opportunities
Even if you are starting a blog as a hobby, you should reward yourself eventually. You need to monetize your blog and use it as a source of income. However, not all blogs need to be monetized hence the need to choose the right blogging platform. Pick a platform that has plenty of monetization options.
c). Level of control
As a blogger, you need full control over your website. You must be able to manage who may access your blog. Also, can moderate posts and comments, such as the ability to eliminate inappropriate comments. You need to be able to design your blog to look exactly as you want.
d). Budget
There are many blogging platforms available that are cost-free to use. They do, however, provide few customizing features. However, some platforms have annual or monthly fees but provide a wide range of features.
With that said, let's get on to the Blogger vs WordPress comparison, but first…
What is WordPress?
WordPress is an open-source content management system (CMS) that allows you to create and share your content online. It is the most popular blogging platform available on the internet.
Also, it has powerful features that let you create a superb blog.
There are two distinct WordPress platforms. The key difference between the two is who is hosting your website. WordPress.com is a hosted blogging platform that helps you create a website while WordPress.org is the self-hosted platform that you can use to build a website on your own.
With WordPress.org, you'll need to pay for hosting and a domain name. It is however free to use. Also, it allows you to have control over your site in every single aspect. 
Conversely, WordPress.com gives you a domain name, hosting account, and website builder all in one. WordPress.org is unquestionably superior to WordPress.com for blogging since it allows you complete authority over your blog, meaning you never have to worry about Google shutting down your blog or negative rules regarding your content.
What is Blogger?
Blogger is a free platform that you can use free to publish your blogs online. Additionally, it gives you a free subdomain with blogspot.com appended to the end. However, purchasing a custom domain is an option.
It offers individuals who aren't tech knowledgeable a quick and simple approach to starting a blog. All you need is a google account to start a free blog on blogger.
After looking at the factors to take into account when selecting a blogging platform, let's compare WordPress vs Blogger stack up against these requirements to see which one performs better.
Blogger vs WordPress: Ease of use
The majority of those who wish to start a blog aren't web designers. As a result, they require a simple blogging platform si they can share their ideas and thoughts online.
Blogger
Creating a blog on Blogger is very easy. You'll only need a google account to get started.
To begin, Sign up for Blogger using your Google account by vising the website
Then select the option to create a new blog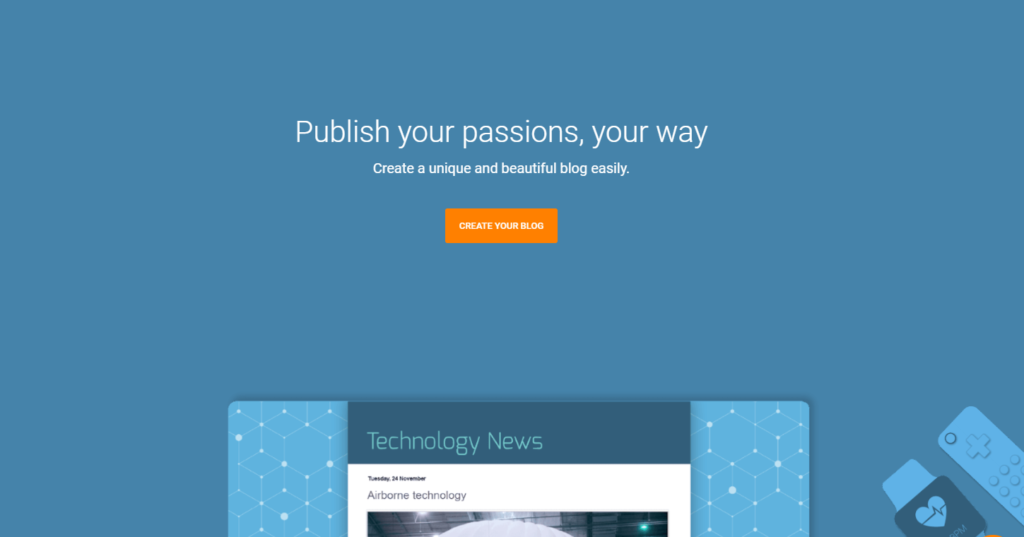 Next, choose a name for your blog and then a URL for your blog
If your preferred blog address is accessible, Blogger verifies it. A BlogSpot domain is given to you automatically, but you can also pay to create a custom domain.
Your blog will be set up once you've completed the steps. The next steps include configuring blog settings, editing the blog layout, and adding posts.
It's easy to start a blog on a blogger platform.
WordPress
Starting on WordPress is simple. Just like Blogger, on WordPress, you don't require any coding knowledge.
Go to https://www.wordpress.com
Then click on start your website
Create your WordPress account by first selecting your preferred methods of registration, such as Email, Google, or Apple, and then enter your information to complete the process.
Once you have an account, you can choose a domain. You can obtain a domain name for free that ends in "wordpress.com" or you can buy one from WordPress. Additionally, you can transfer your registered domain to WordPress.
Next, you can choose a category that best describes your website.
You can start writing and publishing your blog.
You can also go to the dashboard to choose a theme for your blog and customize it to your liking.
See how simple WordPress is to use.
WordPress makes it easier to personalize things to look exactly how you want, despite Blogger's quicker setup.
Blogger vs WordPress: Monetization
More people are seeking methods to earn money online and blogging has emerged as one of such methods. You are only required to choose a platform that will enable you to monetize your blogs.
Blogger
This allows you to monetize your blogs through Google AdSense. However, you need to generate a good number of viewers to be accepted.
It is really difficult to increase search traffic to your blog, especially if you are new to SEO. To increase organic traffic, you must become an expert in SEO on your own and begin putting these methods into practice.
Once your AdSense account is approved, you can research some tested strategies to boost your AdSense profits.
WordPress
Even though the WordPress platform is free, you still owe money to your hosting company, domain renewal charges, security certificate fees, any other premium plugs you use, and all the time you spend putting your ideas and thoughts online, hence you need to monetize your blog.
There are numerous ways to make money from your WordPress blog.
This is the simplest way to monetize your blog. You will place display advertisements on your blog
This can be more profitable than Google AdSense if you have big traffic on your website. You can mention products or write a review of a product in your blog post. If a visitor purchases the product using your link you earn a commission.
Brands can get in touch with you, or you can get in touch with them, to get paid to write a whole blog post reviewing their products or just mention them on your site
You can offer additional and exclusive content to your readers at a fee. You can also sell ebooks and courses in your area of expertise which offers value to your readers.
Blogger vs WordPress: Level of control
How much control you have over your website is a further crucial factor to put into consideration.
Blogger
Blogger is a basic blogging platform with a few functionalities built in. It does not offer many templates to custom-make your blog. These rather simple templates have been used severally. In Blogger, it is difficult to customize your blog to look exactly as you want because of the limited and simple templates.
WordPress
WordPress is an open source with so many free and paid plugins that lets you modify your blog website to your liking.
It also offers many themes that you can use to customize your blog. Moreover, WordPress comes with simple drag and drop builders that you can use even without coding skills.
Blogger vs WordPress: Budget
With so many platforms out there, you need to choose one which aligns with your needs and goals. You don't need to spend a lot of money starting a blog, but you shouldn't settle for a free platform because it could take your site a very long time to become successful.
Blogger
This is an entirely free blogging platform. It offers a free hosting service and a free subdomain. Additionally, it has free templates which are very limited. You can always pay to get additional features and a domain name.
WordPress
This is a free platform but you have to pay for hosting services. It has free and premium themes and plugins. The features you want determine the cost of the plan, it has the cheapest plan starting as low as $5 monthly and billed annually.
As we said earlier, both platforms have their plus and minus. Now let's compare them by looking at the cons and pros.
Blogger vs WordPress: Cons and Pros
Blogger
Pros:
👍 Free web hosting for your website
👍 User-friendly interface
👍 Free unlimited storage of website
👍 Ease of use
Cons:
❌ You don't own the blog
❌ Less customization of your theme
❌ No plugin access at all
WordPress
Pros:
👍 User-friendly CMS
👍 Many plugin options
👍 Thousands of themes to choose from
👍 Third-party integration
👍 Easy to scale
Cons:
❌ Too many options can be overwhelming
❌ Can be costly
❌ Slow page speed
❌ Website vulnerability
Blogger VS WordPress: Which is better?
Both of these platforms are great and will provide you means to share your content online. However, your needs and goals will determine the right one for your blog. If you want to create a personal blog that doesn't require any investments, Blogger is the perfect option.
However, if you are looking to create a professional blog, the right choice is WordPress.