If you're in the market for web hosting, chances are you've come across GoDaddy's Deluxe Linux Hosting with cPanel.
In this blog post, we'll dive deep into the details of this hosting plan, including its features, pricing, and the often-overlooked aspect of renewal costs.
Understanding Deluxe Linux Hosting with cPanel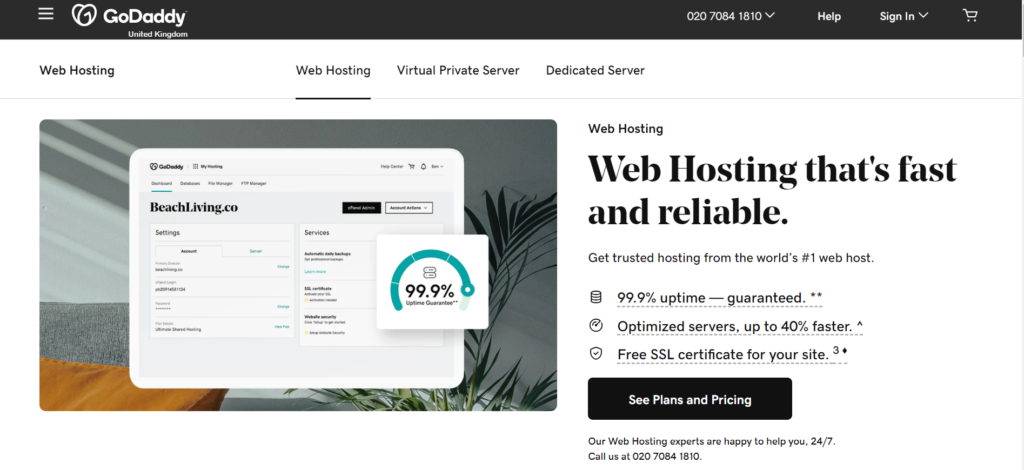 Deluxe Linux Hosting with cPanel is a shared hosting plan provided by GoDaddy. It's designed to cater to a wide range of website needs, from personal blogs to small business websites. Here's what you need to know:
cPanel Management: One of the standout features of this plan is the inclusion of cPanel, a user-friendly platform that simplifies the management of your website account, emails, applications, and files hosted on the server.
Speed Advantage: When compared to GoDaddy's Economy plan, the Deluxe plan offers faster speed, ensuring a smoother experience for your website visitors.
Pricing and Savings
Now, let's talk about the cost.
At the time of writing, the Deluxe plan is available at a discounted rate of $4.99 per month, down from the original price of $10.99.
This means you can save up to 54% on your monthly hosting bill. It's an enticing offer, no doubt.
However, there's a catch.
The renewal cost for the Deluxe Linux Hosting with cPanel package is significantly higher at $11.99 per month.
That's more than double the introductory price, and it's important to consider this when making your decision.
Economy Linux Hosting with cPanel Renewal: A More Affordable Option?
Before you decide on the Deluxe plan, let's also take a moment to consider GoDaddy's Economy Linux Hosting with cPanel.
This plan is more budget-friendly, but there are some trade-offs.
Who Should Choose Economy Hosting?
Economy Linux Hosting with cPanel is designed for those who are just starting out with their online presence. Here's what you need to know:
Budget Pricing: The Economy plan is priced at $7.99 per month, but the current offer allows you to grab it for just $1 per month. That's an incredible deal for those on a tight budget.
Unmetered Bandwidth: This plan offers unmetered bandwidth, meaning it can handle a decent amount of traffic without additional costs.
Beware of Renewal Costs
While the initial price is undoubtedly attractive, the renewal price for the Economy plan is $8.99 per month or $108 annually.
This is significantly higher than the introductory rate, so keep this in mind if you plan to stick with your hosting for the long term.
Read also: Hostinger or GoDaddy: Choosing the Best host ?
Ultimate Linux Hosting with cPanel: The Premium Option
For those with high-traffic websites and demanding hosting needs, GoDaddy offers the Ultimate Linux Hosting with cPanel plan. Here's a brief overview:
Resource-Rich: This plan is equipped with unlimited websites, storage, and databases, making it ideal for businesses with substantial online requirements.
Free SSL Certificate: For the first year, you'll receive a free SSL certificate to secure your website, which is a crucial feature for online security.
Pricing and Considerations
The Ultimate plan comes with a regular price of $12.99 per month, but you can snag it for just $5.99 per month during the current promotional period.
However, be aware that the renewal price for subsequent years rises to $16.99 per month.
Read also: Ultimate Linux Hosting with cPanel GoDaddy: Is It Worth It?
Making an Informed Decision
When it comes to choosing the right hosting plan, it's essential to weigh the pros and cons carefully. Here's a quick summary:
| Hosting Plan | Introductory Price | Renewal Price | Suitable For |
| --- | --- | --- | --- |
| Deluxe Linux Hosting | $4.99/month | $11.99/month | Versatile websites |
| Economy Linux Hosting | $1/month | $8.99/month | Budget-conscious beginners |
| Ultimate Linux Hosting | $5.99/month | $16.99/month | High-traffic, resource-intensive websites |
Conclusion
Deluxe Linux Hosting with cPanel renewal can be a fantastic choice if you're looking for a versatile hosting plan with user-friendly management features.
However, it's crucial to consider the renewal cost, which significantly increases after the initial discount period.
Before making your decision, assess your website's needs and budget carefully.
Whether you opt for Deluxe, Economy, or Ultimate Linux Hosting with cPanel, GoDaddy provides a guided tour and a wealth of articles to help you set up your account, ensuring a smooth start to your online journey.