Are you in need of a professional email service that delivers speed, reliability, and a touch of professionalism? Look no further than A2 Hosting Email hosting.
In this blog post, we'll explore everything you need to know about A2 Hosting Email, from its features and setup process to pricing and alternatives.
Let's dive in!
A2 Hosting: A Brief Introduction

Before we delve into A2 Hosting Email, let's take a moment to introduce A2 Hosting as a web hosting company.
Founded in 2003 by Bryan Muthig, A2 Hosting has established itself as a leading provider in the industry.
With its headquarters in Ann Arbor, Michigan, and data centers across the United States, Europe, and Asia, A2 Hosting offers a wide range of web hosting solutions, including shared hosting, VPS hosting, dedicated hosting, and WordPress hosting.
Known for its lightning-fast speeds and reliable uptime, A2 Hosting has gained popularity among businesses of all sizes.
Their commitment to customer satisfaction is evident through features like free SSL certificates, unlimited bandwidth, and round-the-clock support.
A2 Hosting is especially renowned for its optimized WordPress hosting, tailored to meet the unique needs of WordPress websites.
A2 Hosting Email Hosting: Your Professional Solution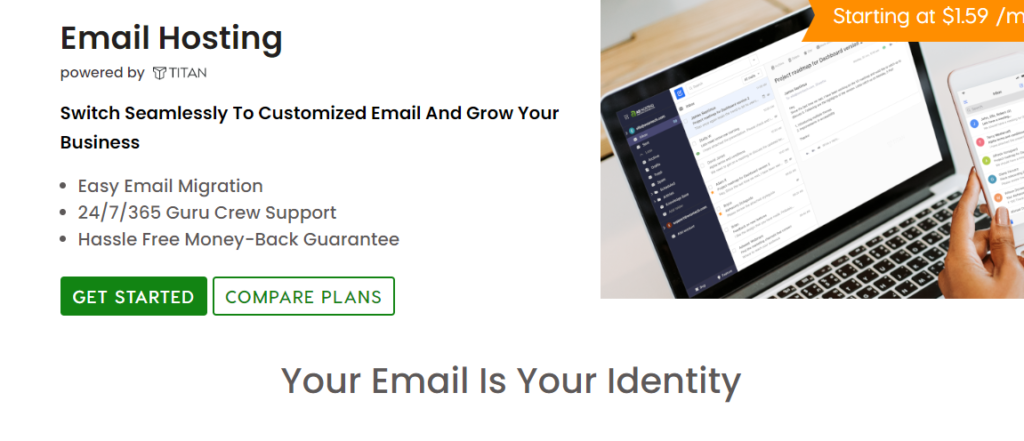 When it comes to establishing a professional online presence, having a custom email address that reflects your domain name is essential.
A2 Hosting Email allows you to create personalized email addresses that exude professionalism and build trust with your customers.
Let's explore the features that make A2 Hosting Email a top choice.
Unlimited Email Addresses
With A2 Hosting Email, you can create as many email addresses as you need for your business. Whether you're a solopreneur or a large organization, A2 Hosting has you covered.
Spam and Virus Protection
A2 Hosting understands the annoyance and potential dangers posed by spam emails and viruses. That's why they've implemented robust spam and virus protection measures to keep your inbox clean and your computer safe.
Webmail Access and Mobile Apps
Accessing your email on the go has never been easier. A2 Hosting Email provides webmail access, allowing you to manage your emails conveniently from any web browser. Additionally, A2 Hosting offers mobile apps for both iPhone and Android devices, empowering you to stay connected wherever you are.
Setting Up A2 Hosting Email Hosting
Setting up A2 Hosting Email is a straightforward process. Here's a step-by-step guide to get you started:
Purchase an A2 Hosting hosting plan that includes email services.
Create a domain name that aligns with your business.
Navigate to cPanel, A2 Hosting's user-friendly control panel.
In the Email Accounts section, click on the Create button.
Enter the desired email address in the Username field.
Set a strong password for the email account.
Optionally, provide your first name and last name for a personalized touch.
Check the Send a welcome email with instructions to set up a mail client checkbox if you'd like to receive instructions on configuring your email client.
Click the Create button to complete the process.
Once your email address is created, you'll receive an email with instructions on how to set up your email client, ensuring a smooth transition to A2 Hosting Email.
Ports for A2 Hosting Email
To ensure seamless communication, A2 Hosting Email utilizes specific ports. Here are the ports you need to be aware of:
POP3: Port 110 or 995 (SSL)
IMAP: Port 143 or 993 (SSL)
SMTP: Ports 25, 465, or 587
In case your firewall or ISP blocks port 25, A2 Hosting provides an alternative option with port 2525.
A2 Hosting Email Hosting Pricing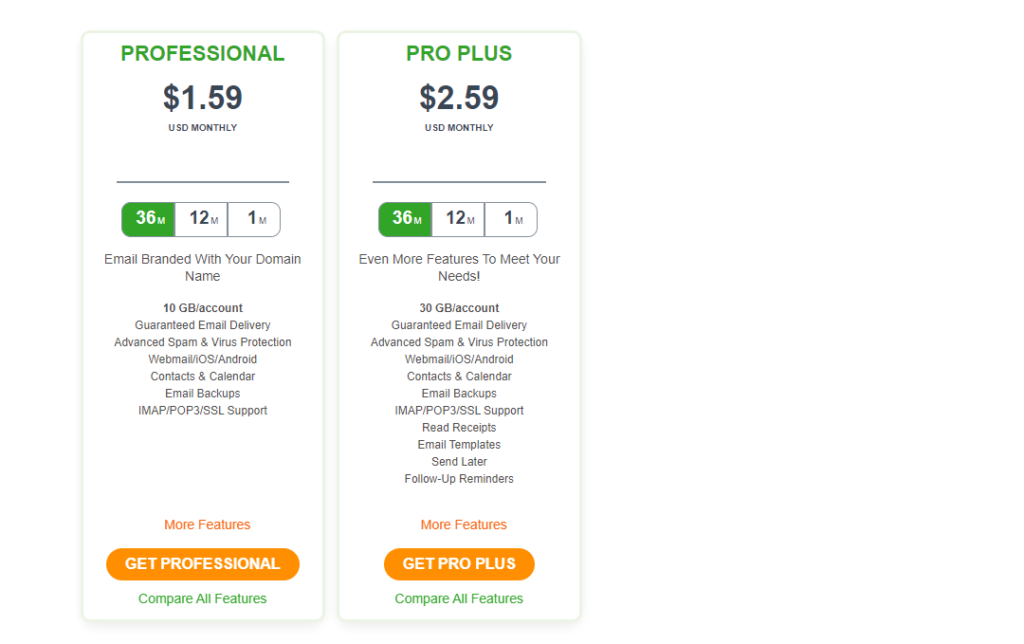 A2 Hosting offers a range of email hosting plans tailored to suit diverse needs and budgets. Let's take a look at the available plans:
| Plan | Price | Features |
| --- | --- | --- |
| Professional | $1.59/mo | 1 email address, 500 MB storage, spam protection |
| Pro Plus | $1.99/mo | Unlimited email addresses, 1 GB storage, spam protection |
| Business | $2.49/mo | Unlimited email addresses, 2 GB storage, spam protection |
| Business Plus | $2.99/mo | Unlimited email addresses, 5 GB storage, spam protection |
| Enterprise | $3.49/mo | Unlimited email addresses, 10 GB storage, spam protection |
Additionally, you can opt to purchase email hosting as an add-on to your existing A2 Hosting web hosting plan. Prices for email hosting add-ons start at $1.99 per month.
Benefits of A2 Hosting Email Hosting
When you choose A2 Hosting for your email hosting needs, you can expect a range of benefits:
Fast Speeds: A2 Hosting's servers are optimized to deliver swift email delivery, ensuring your messages reach their recipients in no time.
Reliable Uptime: With a 99.9% uptime guarantee, A2 Hosting ensures that your emails are delivered even in challenging internet conditions.
Security: A2 Hosting takes email security seriously, providing spam protection and virus scanning to safeguard your communications.
User-Friendly: A2 Hosting's email hosting platform is designed with user-friendliness in mind, allowing you to get started quickly and effortlessly.
Exploring Alternatives
While A2 Hosting Email offers an excellent range of features and benefits, exploring alternatives that may better suit your specific needs is always good.
Here are a few popular email hosting alternatives:
Gmail
Gmail, the free email service provided by Google, offers a wide range of features, including robust spam protection, virus scanning, and a user-friendly mobile app.
Outlook
Microsoft's Outlook is a paid email service that offers similar features to Gmail. Alongside its webmail interface, Outlook provides a dedicated desktop client for enhanced productivity.
ProtonMail
ProtonMail is a secure email service renowned for its end-to-end encryption. It's an ideal choice for businesses and individuals who prioritize the privacy and security of their email communications.
MailChimp
MailChimp is a popular marketing automation platform that offers email hosting as part of its service. It's an excellent option for businesses that require mass email capabilities for their marketing campaigns.
Truehost Cloud
As a web hosting provider, Truehost also offers email hosting solutions.
With a variety of plans and features, Truehost is a viable choice for businesses seeking a one-stop solution for web hosting and email services.
When choosing an email hosting provider, carefully consider your specific requirements, such as the number of email addresses needed, storage space requirements, and desired level of security.
Wrapping Up
A2 Hosting Email presents an excellent option for businesses and individuals in need of professional email services. With its unlimited email addresses, spam and virus protection, and convenient webmail and mobile access, A2 Hosting Email empowers you to communicate effectively while maintaining a professional image.
While A2 Hosting Email stands out among its competitors, alternatives like Gmail,
Outlook, ProtonMail, MailChimp, and Truehost offer their own unique features and advantages. It's essential to assess your needs and budget when making a decision.
With A2 Hosting Email, you can expect a reliable and affordable email hosting solution that delivers fast speeds, secure communication, and ease of use.
So, whether you're a small business owner, a freelancer, or an enterprise-level organization, A2 Hosting Email has got you covered.
Make the smart choice for your email communication and give A2 Hosting Email a try. You'll experience the convenience, professionalism, and peace of mind that comes with a reliable email hosting provider.